WFDU Underwriting
Underwriting donor announcements are available on individual shows or in entire formats. An Underwriting Donor Announcement is a factual account of the product or service offered by the donor with appropriate contact numbers and information. It is professionally produced to client specifications by WFDU with voice and music.
We offer the complete donor package as a 13-week buy in each format or show or smaller group or can be underwritten. Underwriting on WFDU is easy and inexpensive. We will work with your budget. The 13-week package is offered at a discount and varies depending on format or show.
Underwriting packages start at a $500 donation for twenty-five airings of one 30-second spot.
For more information on underwriting on WFDU-FM contact General Manager Duff Sheffield at 201-692-2806 or email at [email protected]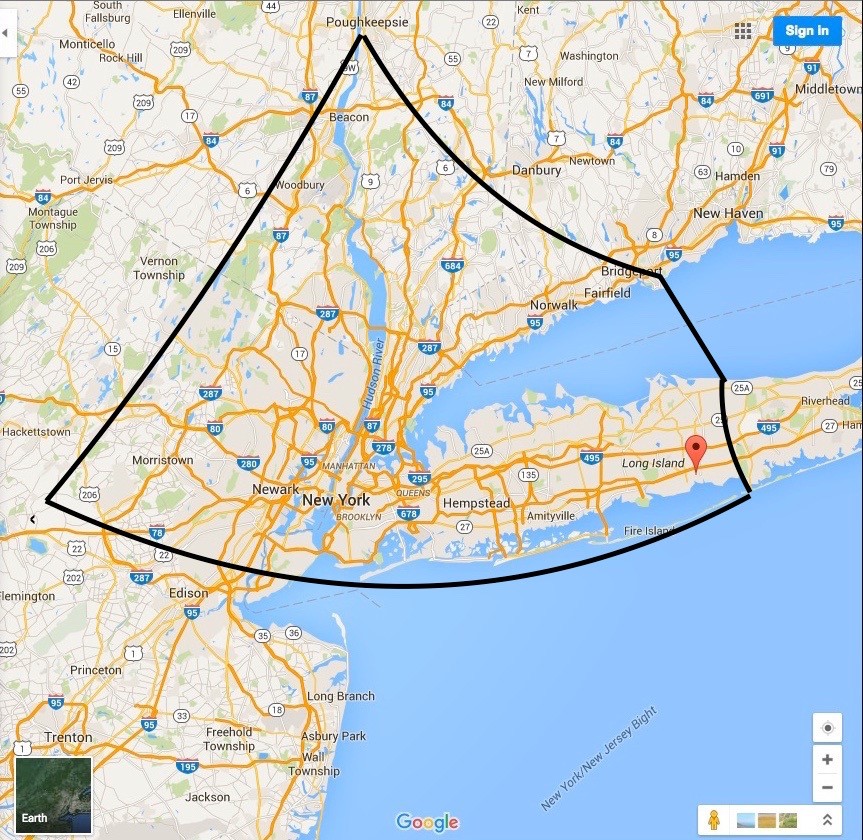 The broadcast range of WFDU.
WFDU-FM is a non-commercial radio station broadcasting to the New York metropolitan area at 89.1 mhz. and now available worldwide with live audio streaming on the Internet at www.wfdu.fm, iHeartRadio, iTunes Radio, TuneIn.com. We also have free iPhone and Android apps There are a variety of musical formats and information shows currently airing including RetroRadio Oldies all day Monday through Friday, and on weekends; Americana, Bluegrass, R & B, Soul, Country, Folk, Alternative Rock, Latin, Jazz, & Gospel. We also have Public Service shows, features, and radio theater. We have a complete schedule of web based music shows as well.
The station's broadcast signal has a 50 mile radius of New York City which includes Northern New Jersey, the 5 Boroughs, Westchester & the lower Hudson Valley, Fairfield County Connecticut and most of Long island. The WFDU transmitter is located within the historic Armstrong Field Lab in Alpine, New Jersey. It is the site of the world's first FM station, W2XMN, built by the creator of FM technology, Major Edwin Howard Armstrong. An output power of 3 kW allows WFDU-FM to have a potential reach to 8.2 million households.
WFDU(FM) is on the air at 89.1MHz in the NYC metro area from 1:00AM to 4:00PM Tuesday through Friday and continuously from 1:00AM Saturday to 4:00PM Monday. WFDU(FM) streams audio over the internet 24/7 highlighting a variety of music genres.
The mission of WFDU(FM) is to provide eclectic music programs not heard at our commercial counterparts., The objective is met through thoughtful music entertainment shows which from Monday through Friday feature our premier format; RetroRadio that includes classic pop from 1955 through 1980. This "comfort-food" music has been dropped from WCBS-FM in NYC, but still remains very popular in all age groups. On weekends we feature eclectic programming hosted by professional volunteers many of who are musicians in their own right.
In most recent Nielsen ratings, WFDU was honored to have over 100,000 listeners weekly with 6am-4pm strongest, especially with adults aged 35-54. The average time spent listening was measured at 1 hour and 45 minutes!